It's no secret that moms crave sleep. Also, chocolate... but definitely sleep. Once your baby gets to an age where they are (finally!) sleeping more consistently, and you can count on having to nurse them to sleep but that they are not NEEDING to feed every hour or two thereafter anymore, all of a sudden you get to enjoy your nights again. Or at least, you get to make it through most mornings without needing a fourth cup of coffee to keep you awake. But then, as luck would have it, things change again. Baby is growing too big to be swaddled, or just doesn't like it anymore. Winter is coming and it's crazy expensive to keep the house warm enough for baby to sleep in a diaper and pajamas and nothing else. Even those adorable, super-soft thick fleece sleepers can only keep so much warmth in. Blankets, if you are using them, end up kicked off, rolled to the side, or pulled up over baby's head far too often, meaning baby gets cold, baby cries, and you mamas get to roll out of your bed and stumble to the crib to re-tuck baby when actually you should both be sleeping.
Now imagine if you could just take baby's blanket, fit it around her body just right, and zip/snap/pin it on so that it won't be kicked off or pulled overhead. That's the idea behind baby sleeping bags. I have a number of different brands and styles, which I intend to review in good time. But I have to say, my favourite in terms of price vs function is the Pampersack from
http://www.babyinabag.com
. I have two of the Stargaze winter models, which I purchased new for around $35 each when my son was little. I got the big size, 22 months - 3T, and it has a tremendous feature that makes me able to use them RIGHT NOW as my little girl is just 6 months - armpit snaps. Yes, the arm holes are generously sized, but they have one set of snaps on each side, so that you can make them smaller (thus pretty much ensuring that they stay right where they should when a younger baby is in the sleeping bag). The bags zipper just off centre, from top to bottom, and are incredibly roomy on the bottom for babies that like to kick their legs and not feel restricted. There is also a snap at the top of the zipper to keep the fabric flat and keep the plastic zipper part from rubbing against baby's face (though with the armpit snaps done up, this is unlikely as the zipper beginning is mid-chest, not under baby's chin). 100% cotton on the outside, 100% cotton jersey on the inside, plush filling, and sweet embroidery makes this model adorable AND super comfy.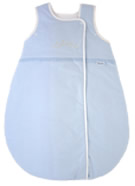 The winter weight Pampersack is really, really nice and warm. It's also fairly bulky, not around baby's face & arms, but the bottom half where the legs go - so if you are trying to juggle baby onto a nursing pillow, it does add a bit of bulk on the end. I think this is totally worth it because the size of the sleeping bag ensures it will fit for a good long time, and also because the warmth factor means I can keep the thermostat at 65 degrees without having to feel like a jerk.
I wouldn't recommend this sleeping bag for the heat of summer, but it does well in Fall, Winter, and Spring, as you can vary what baby wears underneath in terms of long sleeves/short sleeves, and pants vs no pants, to accomodate various temperatures. It is super affordable compared to other brands that also offer the heavy winter weight sleeping bags, the shipping is very reasonable ($4.95 per order, not per bag), and if you sign up on their email list you will get valuable (worth waiting for!) coupon codes emailed to you periodically. The company also makes summer weight, minky, organic, and silk sleeping bags, which I'm sure are lovely, but I have not had the opportunity to try them and so I can't comment.
To find out more, or to buy your Pampersack, visit
http://www.babyinabag.com
.